This is meant as a guide. You may come at any time during the assigned hour. If you cannot make your hour, you may call at another time but we run the risk of having long queues if there is no effort to stick to allocated hours.
If you cannot make it to the school on Friday, you can send a message to the school's e-mail : powerstownns@gmail.com seeking to collect on Bank Holiday Monday, 1st June between 10am and 1pm.
Thereafter, you can send a message to the school's e-mail : powerstownns@gmail.com identifying a date for collection next week and the books will be left outside for you to collect. The school will not be responsible for the books left outside.
We are allocating 5 hours for distribution of books on Friday. With 220 families, this will mean approximately 40 families per hour. To ensure that there is no excessive queueing, we will need to keep the line moving.
Please collect books and leave the building. If you wish to converse with another parent, there should be plenty of space for social distancing in Monkeyland or in the vicinity of the school.
Please stay safe and well.
Entry to the Hall via Reception (beside Secretary's Office), Exit from Hall Doors.
May 25th
The Board of Management convened again last Wednesday evening, 20th May, with a view to identifying key actions that might be necessary to undertake at the moment. Obviously, top of the agenda was the progress of the Covid-19 pandemic, its impact and the governmental restrictions. Unfortunately, on many fronts, further public health and safety advice and guidance from the Department of Education will be required before final decisions can be made.
There has been recent discussion about reducing social distancing requirements from 2 metres to 1 metre for instance. This would likely have a major impact on the educational provision from schools. We have no guidance currently on the level of PPE required in schools, numbers to attend at any given time, funding available for necessary equipment, signage and cleaning. As we are still in May and have been advised that schools will not reopen until September, we are expecting that greater clarity will be provided over the coming months.
Once again, the Board acknowledges the huge burden borne by parents and you deserve commendation. Reports from all over the country are highlighting how difficult it has been for parents. The formal education of children in the home environment is a balancing act, which is difficult to accomplish. All parents want the best for their children but the benefits of sitting down for hours of gruelling school work would have to be questioned. If our parents are feeling fatigued; it is only to be expected and is mirrored throughout the country. Routine and schedule is very important with children but that routine does not have to centre on formal school work in the home. Maintain some reading to practice key literacy skills. Find ways to introduce maths concepts and ideas regularly through everyday life e.g. what time will it be in ten minutes? Will you tell me when it's half five because I need to turn down the spuds. Could you lift the 5 kg bag of potatoes in from the car? etc. Maths operations (adding & subtracting, multiplying, dividing) can be practised using the mental maths test books or simply ask 10 questions a day. Parents are the most important educators in part because they provide their children with the basic set of values and ambition to learn and to achieve. Our parents are superb in this area. Please don't affect your years of loving labour through frustration and criticism which can surface when trying to be everything to everyone.

Much of the primary schooling achieved, particularly with younger children, is through interaction. Nothing will beat trial and error. Exploration and investigation are essential. As children progress through the primary school, their attention span lengthens and their ability to extract information from the spoken word improves. Activity consolidates their learning. This activity is best undertaken with others. Basically, what can be achieved through formal instruction can be achieved in a fraction of the time and with much more fun if others are involved. That is the true strength of a primary school and unfortunately, our children have been deprived this at the moment. It has to be our determined desire to get things back to normal as soon as possible.

We will commence the process of winding down for this 2019/2020 school year, due in part to the need to look forward to the next and hopefully better school year.

Return of Books: Over the next few days, teachers will be visiting the school to sort and bag the pupils' books. This will have been completed by Thursday next. Commencing on Friday next, we will be seeking to distribute these at certain times to families. A timetable for collection will be displayed on this website. Books will be collected from the School Hall, with entry and exit to the Hall from different doors. The Church car park will not be open but there will be spaces for up to 7 cars outside the school. To avoid crowds, please come at the allocated time, do not linger and respect social distancing guidelines.

Book Rental: By agreement with teachers, all books will be distributed. This includes rental books. These will be looked for on the first day of return in September so please keep safely through the Summer. Put them in a safe pile together and return in good condition please.

Contact with Children: Teachers have been encouraged to make more personal contact with the children from their class, in a manner with which they are comfortable, over the coming week. In some cases, there is a lack of adequate broadband available. Participation is a parental decision. There is no pressure or obligation to avail of this opportunity.

Graduation: Our 6th Class have been exemplary in their final year and should be ready to transition to secondary school. However, there is a feeling that there is unfinished business and the teachers and Board of Management would like to acknowledge their years with us and to mark their departure. We are adopting a wait and see approach, as we are in an evolving situation and there is now talk of the easing of restrictions in a shorter timeframe. Rest assured, we will do something. There is still one month until 19th June, when the school officially closes for the summer holidays and possibly something could occur even beyond that date.

Staffing Appeal: The number of pupils enrolled on 30th September 2018 met the required number to appoint a 15th class teacher – for September 2019. For the past year, we have had fifteen classes in operation. However, the number of pupils enrolled on 30th September 2019, with a particularly small junior infant enrolment, combined with a number of unexpected mid-school transfers and a large group leaving for secondary school in that year, meant that the school dipped under the number required to keep the 15th Class Teacher. The Board appealed the loss of the teacher in these uncertain times and with numbers expected to be up again in September 2020. The appeal was unsuccessful, resulting in the loss of a teaching post.

Class Allocations: In light of the above decision by the Department of Education, the Board examined possible permutations of classes for the coming year. All of the possible scenarios had some disadvantages: large class numbers, re-alignment of friendships, classes across multiple classrooms etc. While a preference has been identified, there are still too many uncertainties, even with regard to the number of children allowed in a classroom simultaneously and it is felt that a change of direction again would be possible. For this reason, we are not in a position to release class allocations or booklists at this juncture and possibly into the Summer Holidays. We will notify parents when we are in a position to make final decisions.

End of Year Reports: We have decided to make some alterations to our End of Year Reports in the light of current circumstances and the fact that parents have carried much of the teaching burden for this school year. End of Year Reports will issue before the end of June. Education Passports, which are required for the transfer from Primary to Secondary are being compiled currently.

Communication: Please continue to communicate with the class teacher. We value your feedback.

Keep yourselves and your families safe and healthy and we look forward to when schools are open and we can return to the education of our children.
May 18th
Hi to All.
And so we've reached 18th May at last and certain restrictions are being eased. The Roadmap suggests that if we practice social distancing and effective hygiene, other restrictions will be eased over the next few months. For many of us, that will not be too soon.
It has been a difficult time for parents and we do recognise that. In the past, the staff have noticed that even with highly motivated children, beginning in May and continuing into June, it is difficult to maintain the children's motivation and attention. This is likely to be even more the case after two months of home schooling, where everybody is likely to be experiencing a sense of fatigue. In line with the easing occurring nationwide, we are proposing to commence easing the schoolwork as we head into June. We have at all times provided a menu of activities to be undertaken and it has never been compulsory to complete everything suggested by the class teacher. Well done to you, the parents, on what you have managed so far. Well done to your children.
It is important for parents to be involved in their children's learning. However, the rigour of school work is a difficult ask. It is made even more difficult if parents are trying to work around their own work commitments, not to mind the additional demands being made on front-line staff. But, as I have previously pointed out, there is so much to learning that is/can be undertaken by parents, without straying into the formal aspects. I took this from an Irish Times column (1/4/2020) – it is the advice of a mother who has been home-schooling for the past fifteen years.
Trust that children will always be learning even if they don't appear to be. You can't stop them. Do what you like to do – if you like playing the guitar, try and do that and be a role model of learning yourself. Most children want to do what their parents are doing. It is a lovely thing to read to your children and so often we don't have time. It's more than just being about the book. When there is love and emotions involved, the learning is just boundless. When it is the opposite, like "sit here now and just do the page", that is just so stressful for both parent and child and the learning won't happen.
While there is a value to routine, there is so much learning for your children outside of the text books. Some examples of parent / child learning could include looking up places around Clonmel and walking to those places at a later date, reading stories together (forget correcting every word, it is only important that your child is extracting meaning), design a card for someone special, sing a song, throw a ball or a frisbee etc. The natural attention span of young children is extremely short so sitting down for an hour to do formal schooling is fighting against nature.
Restrictions have been eased to allow playing singles tennis, golf and other non-contact sports and for four people not from the same household to meet. While referencing social distancing and hygiene practices, is there an opportunity for children to play and to meet other children? It is what they need more than all the school work we can provide. Children need to play and develop their natural skills. We'll cover the school work when the time comes. While we can't stop children learning, it is made even more fun if there is someone else along, just enjoying the experience.
If a parent feels there is more schoolwork needed than the teacher is assigning, we recommend Scoilnet, World Book On-line, Epic! , Khan's Academy or a myriad of other useful websites. But work sensibly and give your child and yourself credit.
Finally, each of us needs to recognise the massive changes wrought by the pandemic and the need to be alert to our well-being and the well-being of the children. The resources at the following link have been developed and made available to assist with that. They are suitable for children and adults. www.pdst.ie/primary/healthwellbeing/relaxationandself-regulationtools
April 30th
The attached link brings you to a resource produced by two primary school teachers, who have made it freely available. I did not come across it until now so some of the activity relates to Easter. However, much relates to seeing the positives and focusses on mental health and well-being and some is to develop imagination - a huge help to any child.
drive.google.com/file/d/1gasHX74OYHHH4hrrP5Y823FarA_TgnuI/view
At this time, it is worth bearing in mind that, while hugely resilient, children thrive best with stability, consistency and certainty. Their sense of well-being will have an immense influence on their academic success. The exercises in the link provide opportunities to develop their well-being by focussing on the positives. They are very worthwhile considering some other consistencies in the child's world have been temporarily removed.
Could I remind parents that children, like adults, have good days and bad days, productive days and not so productive days. They should be encouraged to do their best and that is fine. Not all school work is interesting or even manageable for all children on any given day. The best teachers recognise when they are dealing with a child with "brainfreeze" - you know that feeling when someone is explaining something to you, you can hear individual words, but nothing makes sense. It only gets worse the more you go after it. Switch activity or change the direction. Sometimes it is the following day before the penny drops. Put away the work that's causing a problem with a positive comment eg. "We did well up to there, we'll take a small break and do something else. You did really well on the english spellings". A break away from the schoolwork or on a different activity can work wonders.
I wish I could always do the above but like most people, I'm not perfect. I hope parents cut themselves some slack. Teaching a child who doesn't want to listen to you or wishes to argue why you're not right can be very frustrating. I'm putting it down as a healthy sign in a child and hoping for the best !!!
One thing to be aware of, we are all in this situation together, we will emerge from the current situation together and the world will go on. When children return to school, the teachers will be making every effort to make up for lost time. There will be some things we won't get to. But they won't be missed. Your child will be fine if you concentrate on our Mission Statement: Mol an Oige - Praise the Young.
Eugene Fogarty
April 29th
The Senior CFSN (Child and Family Support Network) Co-ordinator in South Tipperary would like to let parents know that they are still providing and co-ordinating services for children, young people and families in the area. Due to the current Covid-19 situation, the ways in which supports are being provided have been altered to best meet the needs of families, while adhering to governmental guidelines. The Senior CFSN Co-ordinators can signpost / link families to available supports, on a voluntary basis, which may include access to a range of services such as counselling; family support, therapy online / phone, youth services & other supports like these.
If you would like to find out more, please contact Senior CFSN Co-ordinator:
Julie Ryan 087 6524898
Julie.ryan4@tusla.ie
April 28th
To all children of Powerstown N.S.
Hello everybody,
All of us at Powerstown N.S wish to let you all know that we hope you are keeping well. We also want to tell you that you are greatly missed by the principal Mr.Fogarty,by all of the teachers, by all of the SNAs, by Mrs.Roche our secretary, by Pat our caretaker and by Angela our cleaner.
We all miss seeing your smiling faces inside the school and outside the school ,in the playgrounds and yards.We also wish to let you know that we are so proud of you all for being so good at home and for trying your best to do your homework. The board of management and all the teachers know that this can be difficult for you sometimes but all we continue to ask is that you always do your best. If your parents/guardians are happy with the amount of work that you manage to complete well then that is fine with all the teachers.
So don't worry. Be happy.We are very proud of you all. We know you all miss seeing your friends and they all miss you too.We have to keep your safety in mind as the most important thing to us all right now.We look forward so much to seeing you all back at Powerstown N.S.when our government deem it safe to do so. Until then, keep safe and as Fr.Ahearne always says "keep smiling".
Sincerely,
BOM and staff of Powerstown N.S.
A note to all parents and guardians of Powerstown School children.
Hello to you all.
The BOM of Powerstown N.S. met this evening April 27th 2020 via a conference call.At this meeting it was deemed of vital importance that a note of thanks and sincere gratitude be relayed to you for all the dedicated work that you have undertaken at home to support your child's/children's home schooling.We as a board appreciate all your trojan efforts and all we ask is that you might continue to do so for as long as it takes to enable us all to return safely to school in Powerstown.
Nobody knows when this safe return will eventually take place but all we can do is wait as patiently as we can and place our trust in our government, in our patron and in our board to make that safe call.The BOM also wishes to acknowledge the extra struggle of our sacrament classes of second and sixth in these difficult times.All we can say for now is that these sacred ceremonies will take place whenever it is safe again for these children and their families to congregate once more.We would urge the parents and guardians of these children to keep abreast with updates by logging into the Waterford and Lismore web-site.
Thank you once again to all of you.
Yours sincerely,
Powerstown N.S. BOM.
April 27th
Hi.
The Bishop of Waterford and Lismore has written to all schools and posted a statement on the Waterford & Lismore website regarding Communion and Confirmation 2020.
The letter can be accessed at www.waterfordlismore.ie
( If you highlight and right click with the mouse on the above address, it will ask if you wish to go to www.waterfordlismore.ie )
April 3rd
Pairic Clerkin is CEO of Irish Primary Principals Network.
IPPN have produced this message of support for parents.
From myself, Eugene Fogarty, I'd like to emphasise that your children are hugely resilient but look to you for stability in these strange times. Never fear, we (I mean collectively, teachers/parents/community) will be seeking to adequtely address gaps in our children's education when everything returns to normal. There were parents before teachers - parents are the natural educators. Children learn so much by watching and listening but so much more by doing. Just playing in the garden provides children with learning. In our infant classes, we have introduced Aistear this year. Aistear provides sustained play, in structured situations, on the understanding that children naturally develop through play. The key part is putting a bit of structure on what is being undertaken.
Spend ten minutes a day just talking to your child (I should probably say conversing as this involves listening and speaking) and this will reap dividends. Encourage your child to read. Fortunately, the older your child is, the more they will be able to do independently. The younger your child is, the faster they pick up the essentials from you and that is all they need at the moment. Nothing can replace human interaction for learning. Unfortunately, our children are currently being denied natural interaction with each other. This will change at some stage but at the moment, as a community and as a nation, we need to continue with social distancing and lockdown. Afterwards, we can make up for lost time.
I wish everyone a Happy Easter. I would like to thank the teachers of Powerstown for their care in setting out work for the children to do to help keep the "engine ticking over". We will see what pans out between now and the 20th April. Enjoy the Easter Break with your children. If you are a front line health worker, thank you. I can only imagine the pressure you are under at the moment. If you have lost a loved one at this time, as I know some families have, I offer my sincerest condolences. I wish I could do more.
No work will be prescribed for children over Easter but I recommend keeping up a sense of routine - maybe 15 minutes of reading, some time on colouring, watching the RTE School at 11.00 weekdays, looking at a recommended web-site, weeding in the garden etc.
Wishing you and your families safety, health and happiness over Easter.
March 26th
With schools and colleges to remain closed until 19 April, here's a reminder for children, and parents, about the measures we should be taking to stop the spread of coronavirus.
Let's get one thing straight at the start, while it probably feels like you're on holiday, this time off school is not a holiday.
It is a time to follow government guidance on physical distancing and the restrictions on outside movement to flatten the Covid-19 curve in Ireland.
In fact, the longer you treat it like a holiday, the longer these restrictions will be in place and then the restrictions might restrict your actual holidays.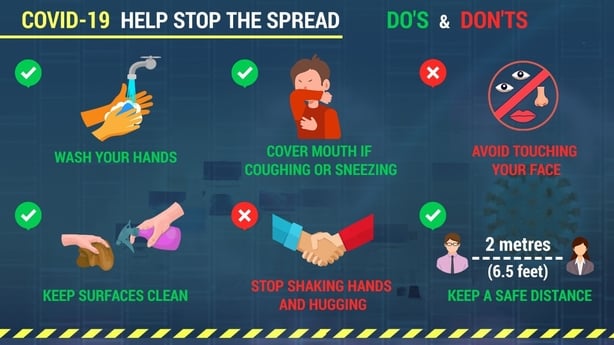 Every single person has a part to play in slowing down the spread of the coronavirus.
So how do you play your part?
Hold your phone at arm's length, now double that distance. That's how far you have to be away from another person to prevent giving them Covid-19 and to stop the spread of coronavirus.
Do not shake hands or have close contact with other people, this includes hugging, playing contact sport, walking side by side or just sitting in the same room together. All of these activities will help the coronavirus to spread.
Wash your hands. Thoroughly, regularly and for a little bit longer than a TikTok.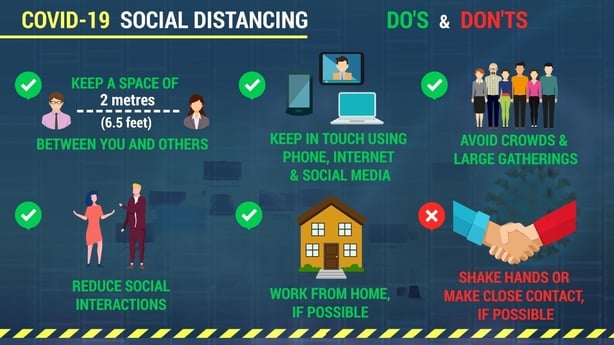 Social gatherings of more than four people should not take place, unless all those people are from the same family unit.
Act like you have the virus. If you meet up with two of your mates, in short, the science says you could infect them both, then they each will go home and infect two more people, and so on and so on.
Even if you feel perfectly fine and show no symptoms you could be carrying the virus, and while that's good for you, it could be terrible for whoever you unknowingly pass it on to.
It's either we kill the coronavirus inside us with our immune system or it kills us, and those with underlying health conditions are at particular risk. Do you want to be the person that infects them?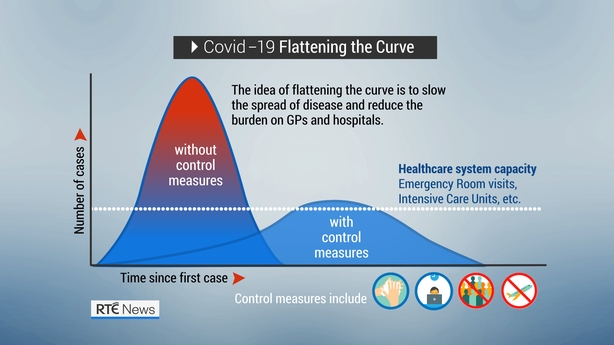 The message is to stay away from people physically, but you more than anyone know how to stay in touch without being face to face. Everyone has to do it, for everyone's sake.
Being at home every day can seem extremely isolating and it doesn't help that the whole world seems to be freaking out right now.
So get into a routine. Get up, get dressed and ready for the day, put your phone away and get into some school work even if it's just to exercise your brain.
Stay away, but stay in contact. We will get through this together, while staying apart.
March 12th
Covid 19- Circular from Department of Education. 12.3.2020
Dear all,
We would like to direct your attention to updated guidance issued this morning on talking to children and young people about Covid-19.
You can access and download this guidance in both Irish and English from the Department of Education and Skills website below under the heading 'Talking to children and young people about Covid-19'.
Please ensure that all staff, parents, and other interested parties receive this update.
We would also like to direct your attention to a child-friendly interview that Deputy Chief Medical Officer Dr Ronan Glynn did with RTÉ's new2day programme last week, that may also be a useful resource when talking about Covid-19 with children and students.
https://www.rte.ie/news/coronavirus/2020/0306/1120692-news2day-coronavirus/
Thank you for your assistance, and please get in touch if you have any further enquiries.
Pearse Ó Caoimh
Higher Executive Officer — Communications.
__
An Roinn Oideachais agus Scileanna
Department of Education and Skills
January 17th
We are noticing a spike in absences in the school, particularly in the younger classes. This is a time of year when children catch a variety of illnesses but it may also be due to spread of flu. Children with symptoms of flu should be kept at home.
Taken from the HSE Website